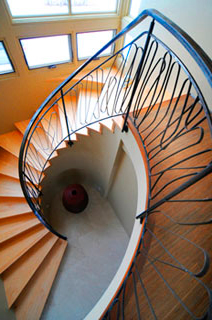 "Lisa Issenberg"
by Michelle Groper
Truly Telluride, a Telluride Properties publication
April 2008
Lisa Issenberg is on the move. Between Telluride and Ridgway – where her studio is located – the East Coast, the West Coast, a bit of France and back again, it's hard to imagine that she designs objects that tend to be stationary.
But it's a fact that her art is quite rooted to the area – literally and figuratively since 1991. As an undergrad at Tufts University in Boston, Lisa had no idea she'd be an artist. During her senior year, she took some jewelry classes at Boston's School of the Museum of Fine Arts and embarked on an enviable and constantly changing career in art that would take her across the country and back again. Inspired and curious about working with steel, Lisa decided to study metal work and sculpture at San Francisco State. After many years of living and working (establishing Issenberg Design) back in the Telluride/Ophir area, it was time to return to the fundamentals at Pratt Institute in Brooklyn where she earned a Masters of Industrial Design. There Lisa focused on the design process, combining creativity with problem-solving, learning the processes of mass production, drawing heaps of prototypes for the forms and products of our daily lives and using this knowledge to enhance her sculpture, functional design and jewelry work.
And, she thought, as long as she lived in New York, why not approach the Whitney Museum to see if they'd carry some of her jewelry in the gift shop, then known as "The Store Next Door"? Of course they were thrilled to represent her, as was the International Center of Photography.
Upon graduating from Pratt in 2001, Lisa headed west again, back to Telluride, where she plays in the mountains, and where her very unique art is in high demand. No project is too big or small: railings, signs, benches, jewelry. Her art is all around for everyone to see: the donor walls at the Palm Theatre, the Conference Center in Mountain Village, the Telluride Historical Museum, a River Trail park bench, the Telluride trash receptacles and kiosk, art in private homes and most recently, Telluride Properties' yard signs.