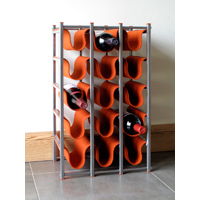 Mango 15
Product Code

W15-mango

Price

$1400

Materials

steel, wool felt

Dimensions

14" x 23.5" x 9"

Wine racks by Issenberg Design are an innovative and colorful way to beautify a room and store bottles. The rack and its inspired motif is one of our signature pieces.
Hold your special collection in this small, chic rack with mango felt accents.
Custom orders are welcome. Many sizes and a variety of colors are available. Contact Issenberg Design for more info.