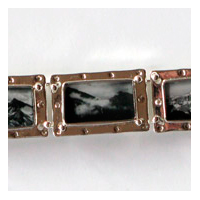 Rocky Mountain B&W Bracelet
Product Code

JBB-1

Price

$720

Materials

Issenberg photographs, Issenberg signature on back, resin, sterling silver

Dimensions

197 mm x 16 mm x 3 mm

Original landscape photographs of the Colorado Rocky Mountains framed by sterling silver defines Issenberg Design jewelry. Lisa Issenberg's Rocky Mountain Charm Series reflects both the grace of nature's inspiration and Issenberg's passion for creative minimalism.
All styles are limited editions. Each piece of jewelry is signed on the back, and custom engraving is available for no additional charge. All materials are made in the USA.
Special orders with your custom images are welcome. Please see the "custom" page for more information.