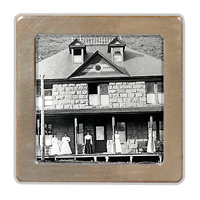 Telluride Historical – Buildings
Product Code

KK-THM-B

Price

$48/each

Materials

303 stainless steel, photographs, resin

Dimensions

1" diam. x 1.25" h (each)

Introducing the Kuva Knob, one of Issenberg Design's distinctive and original pieces. The knobs integrate photographic images with satin brushed 303 stainless steel to create unique cabinet hardware.
Choose from a variety of images including Issenberg's Rocky Mountain Series, the Japanese Woodblock Series, Famous Hands, Durrance Vintage Ski shots, or the Telluride Historical Museum images.
TELLURIDE HISTORICAL MUSEUM ARCHIVAL PHOTOGRAPHS
Please choose your image in the drop-down menu above. You can adjust the quantity in your cart.

Special orders with your custom images are also welcome. Please contact ID for more information.
Each Kuva Knob is signed and dated on the back. All materials are made in the United States.
All designs are handmade, limited editions. If your style choice is not available to ship within five days of placing your order, you will be contacted with information on lead time and current available options.
Please allow 6-8 weeks for large orders.